Puerto Rico's Top Five Foodie Secrets
You might think that Puerto Rico's foodie fame hasn't changed since the Pina Colada was born out of a publicity stunt at the Caribe Hilton's iconic Beachcomber Bar in San Juan in August of 1954 – or was it 1953 – when Roman "Monchito" Marrero – or Ramon Mingot – combined Coco Loco with local rum inside a coconut, and got the whole island buzzing – and buzzed. But you'd be wrong.
Over the last decade, Puerto Rico has become the Culinary Capitol of the Caribbean. The key to Travel on your Tongue, is "go where the tourists ain't," to find the authentic flavors that will make you drool long after you get back home. You won't find these places on your own. Luckily, I'm here to help.
Feed your soul with a Fork on the Road's BEST FIVE FOODIE SECRETS for making your trip to this balmy, sun-soaked island muy delicioso.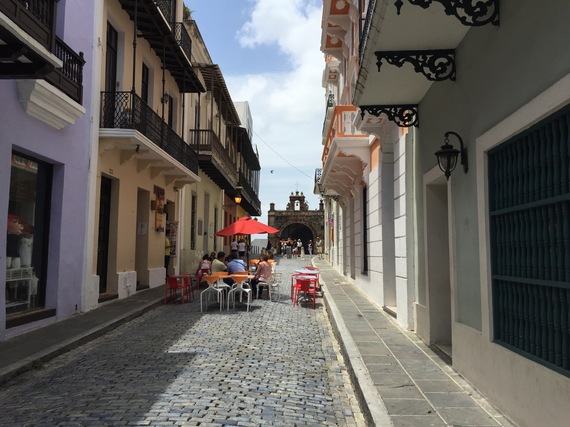 1) OLD SAN JUAN: Walk, don't drive, through this colonial fort/city. Wind your way along the blue-cobblestoned streets surrounding the majestic Castillo San Felipe del Morro fortress that caps the grassy summit of the city until your stomach starts to rumble.
Then meet Caroline or Paulina for their Old San Juan Walk and Taste Tour you booked the night before. You'll meet as a gaggle of hungry strangers at the Totem Telurico in Quincentennial Plaza. After commemorating the 500th Anniversary of Columbus' visit to the island, you'll forage through the Old City, skirting the tourist traps to focus on local chefs and artisans you'd never find without your whimsical guide. Each family-owned café along their route provides it's signature delight; authentic Puerto Rican café con leche, fantastic yucca mofongo, fish tacos, and incredible tres leches, setting the stage for your final stop of the day; a savory lunch of mariscos and rum. Take the tour early in your stay so you can revisit your favorite spots for more comprehensive menu destructions before you leave.
2) CONDADO: What does a chain hotel know about local cuisine? Usually nothing. But the comfy beachside Marriott Stellaris Casino and Resort's boss is a former chef who can't help but share his love of local flavor. Chief Hosting Officer – it's on his card – Hans Georg Rohrbein has posted around the world, both as a chef and a GM, and he makes sure that any foodies under his roof in the Condado, just a 5-minute taxi from Old San Juan, benefit from his extensive knowledge for good food, enthusiastically enjoyed. The hotel's pool and white sand beach can be both relaxing and exhilarating, especially if you like water slides. But after lounging awhile, you'll get hungry as the sun sets over the beach.
Follow Hans' advice and head to La Placita de Santurce, a short walk south out the front door past a seemingly endless gallery of inventive and pristine street murals. This town square – a Caribbean Rue Bourbon – features live music, a ring of stellar bars and restaurants, and a throbbing crowd of nicely dressed, smiling locals mixing happily with visitors.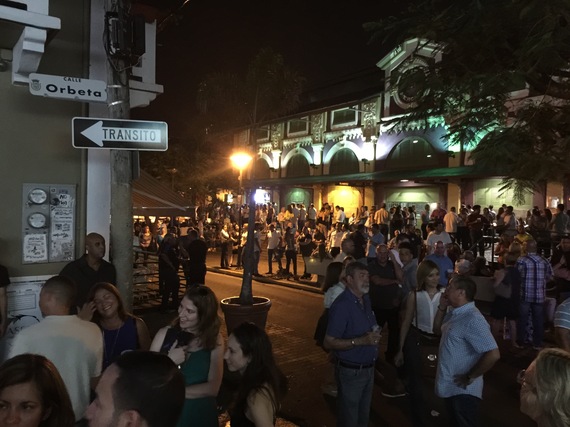 By 6pm, put your cell number on the dinner list at Jose Enrique, then crowd surf across the packed square to Santaella for some rum cocktails. Guava & Rum is the perfect match for the weekend social scene playing out before you. Part backyard BBQ, part mixer, the crowd at La Placita ranges from sexy singles dancing salsa on the curbs, to couples, to delightfully grizzled Latin geezers, smirking on patios while watching the eternal chase before them.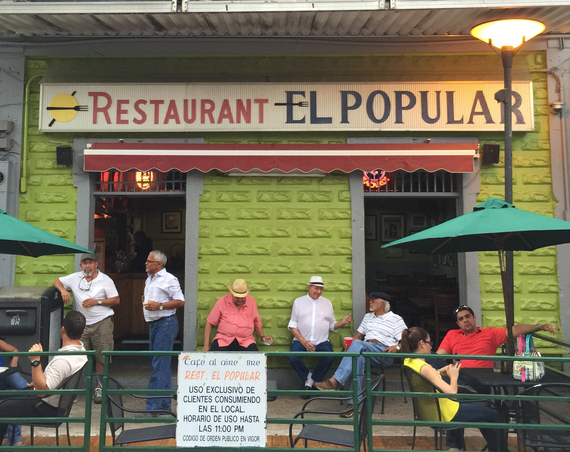 Eventually, your buzzer will light up as much as you do, and it'll be time for hometown chef Jose Enrique to dazzle you with his family recipes. Start with the Poppers, then move onto the succulent Carne Frita and Cangrejo, but make sure to save room for Jose's signature dessert: Tembleque.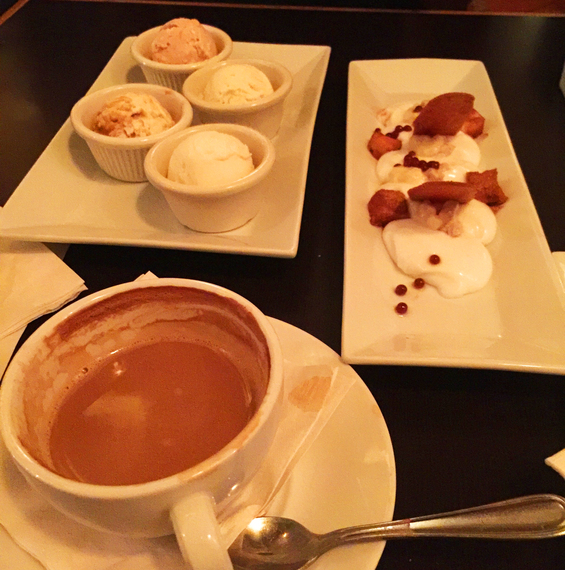 The ginger-lime, dulce de leche and guava ice creams cool like an ocean breeze on a hot, humid night. Sip your con leche, then head outside to find a dance partner for the live Latin music bouncing around the square. Best nightlife on the Island. Period. Thanks Hans!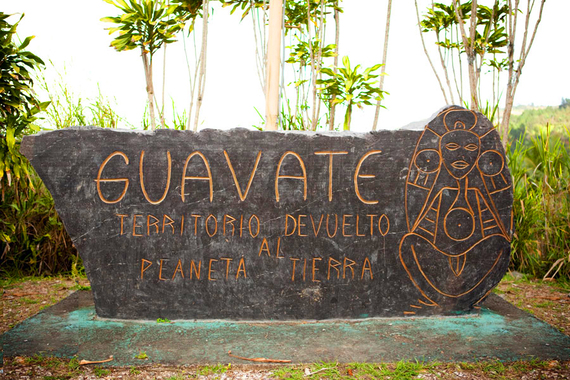 3) GUAVATE. Drive East and South out of Condado- it's time to road trip and see the countryside. Lush, tropical landscapes line the highways, which are filled with horrible drivers, unless you think driving 40 mph in the left lane is a good idea, in which case, you'll fit right in. The good news: you'll have plenty of time to see the sights. The better news: you're on the Pork Highway to Guavate.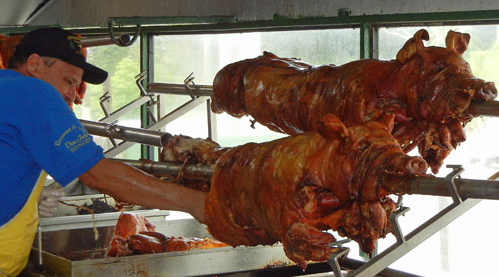 Guavate is only 45 minutes out of San Juan, but seems a world away. It's nothing but a string of smoky Lechonera stands. Until around 3pm. That's when the music and crowds roll in. Wander the entire strip, sampling whole hog, chicken, pork tamales, tostones, blood sausage, rice and beans and what ever else caresses your nose as you enjoy great live music…in the middle of the jungle! This pork is worth a 45 DAY drive; you'll never have better pig. Vegans should stay in the car. There's not much, if anything, for them to eat, and who needs all the judgy eyerolls?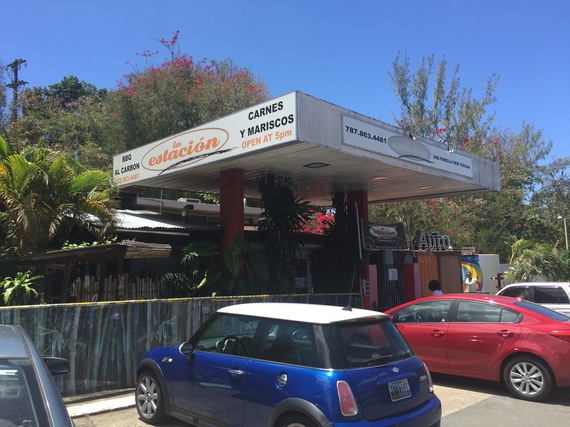 4) FAJARDO. Squatting just outside the gate of the luxurious El Conquistador Resort is what was an abandoned gas station, until high profile New York Executive Chef Kevin Roth decided he needed a life on a different island. La Estacion is a casual, classy, extremely friendly bar and restaurant that makes the most of Puerto Rico's native delicacies. The patio is always packed with an eclectic array of tourists, townsfolk and local dignitaries dining on Kevin's inventive mix of Caribbean recipes. His menu is VERY local – exclusively using produce and proteins sourced from his own personally-managed farm – mixing a bit of Manhattan attitude with plenty of island flavor. Start out with the mofongo relleno with Mahi Mahi, shrimp, garlic, onions and peppers. If you're not in a meat coma from the pork highway, get the juicy skirt steak, but only if your date orders the whole fried fish. Fresh doesn't describe the delicate balance of flavors cooked into something that was still swimming while you were driving over.
La Estacion has best nightlife on this sleepy side of the island, not counting the nearby Bio-Luminescent Bay, which is the perfect after-dinner excursion. The night-time kayak trip through low-hanging mango trees opens onto one of the few bio-active bays left on Earth. Do not miss this amazing experience for a romantic couple, or a rowdy group of adventurers.
5) EL CONQUISTADOR. After all your rowing, eating and driving, you're gonna need a comfy night's sleep. Proudly perched on top of a massive plot of serenely gorgeous land, sits the Waldorf Astoria's El Conquistador Resort and Golf Course. Priced well within the budget of anyone with enough scratch to buy the plane ticket down, the El Conquistador offers breathtaking views of the water, and it's own private Palamino Island, the perfect spot to snorkel, scuba, jet-ski or just digest every yummy thing you've been sliding down your pie hole. Executive Chef Jonattan Hernandez has won multiple awards for his ancestral Puerto Rican recipes, including leading the National Culinary Team of Puerto Rico to a Gold Medal for his mofongo recipe. It was so delicious, I asked Johnattan to show me exactly how to make it.
Puerto Rico is now more than just a pretty face. The island is a World Class Culinary destination… that doesn't act like one.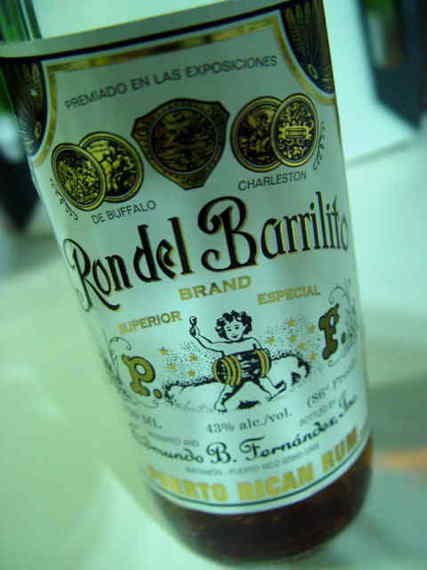 BONUS TIP: Do not come home without a bottle of Ron del Barrilito. They're so local, there's no website. Get the three star and sip it like bourbon.
By: Mark DeCarlo
3 time Emmy Award winning Comedian, travel & foodie expert
The Huffington Post